Product Details
Product Overview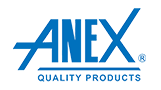 Anex Deluxe Hot Plate (AG-2066ss)


Get free returns on eligible items

Country-wide Shipping

We ship throughout Karachi, Lahore, Islamabad, Rawalpindi and all over the country.

Express Delivery

Get your order to your doorstep within 24 hours through iShopping's Express Delivery (on eligible items).
Overview
Specification
Review
About this Item
• Voltage: 220-240V
• Frequency: 50/60Hz
• Power: 1500 + 1000 Watts.
• Thermostat control knob with pilot light.
Show More
Specification
Product Sellers
G.S ELECTRONICS
Warranty Text
2 Year Official
Customer reviews & ratings
How do I review this product
If you recently purchased this product from iShopping, you can go to your Orders page and click on the Submit Review button
How rate and review works?
Our reviews are from iShopping customers who purchased the product and submitted a review